Diva's Fashion Guide: Handbag 101
Diva's Fashion Guide is back and it's all about handbags! This accessory was my first love. Some have an affinity for shoes, others jewelry, but I love a good purse, or handbag, or pocketbook. See, there are so many names for these beautiful items we carry our essentials in on a daily basis. However, all aren't interchangeable. Man names are thrown around and it can get confusing. So, I'm here to break it all down for you. I'll explain the difference between the most common handbags. Grab a pen and paper and take notes!
Tote
Often rectangular in shape and taller in height equipped with thin straps. Totes are designed to carry more items. Coming in at all price points and colors, you can find a tote that fits your budget and lifestyle.
Satchel
Satchels are similar to tote bags, but one distinguishing factor is that most satchels have tops handles along with a shoulder strap. Some designs offer "feet" at the bottom of the bag to protect the material from dirt and debris.
Duffel
Getting its name from its larger cousin, the duffel handbag resembles the larger duffel bag used for traveling. The are barrel shaped and often come equipped with top handles and shoulder straps.
Clutch
Getting their name because you can "clutch" them with one hand, clutch purses are small and are offering for both casual and evening occasions. Clutches come in variations such as wristlets. These have a singular strap allowing you to let the purse hand from your wrist or wrap around it for added security. Envelope clutches are popular as well, getting their name from the mailing envelopes they resemble.
Bucket
As you have probably noticed, most names come from the shape they resemble. This is no different with the bucket bag. Coming in large and small versions, these bags have a signature drawstring closure.
Coin Purse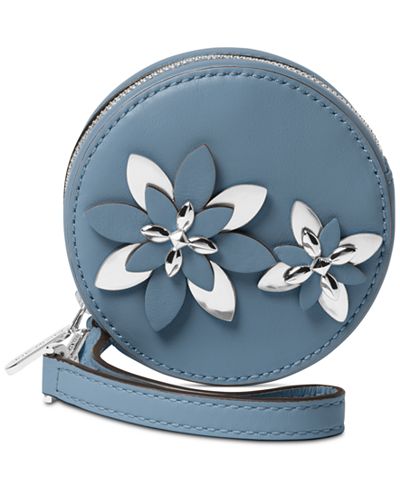 MICHAEL Michael Kors
Being only big enough to put a few coins in, coin purses have been around for generations. Many older women still use them. They now come in trendy variations like the one shown above.