Diva's 2013 Holiday Gift Guide for Him
1. Grooming
Men are paying attention to their grooming routine these days, and cosmetics companies have noticed. Men now have their own face washes, moisturizers, and toners to go along with their aftershave. Take a look and get some ideas for some
beauty
grooming products for men.
Dove is a great and inexpensive starting point to get grooming products for men. They have a complete line to choose from, and products are also offered in sensitive skin formulations. The packaging is very manly, so no worries about if the products are really for women. Prices vary per location.
While you're in Sephora shopping for gifts for your friends (and yourself), pop on over to the men's grooming section and get the man or men in your life a grooming set from the "man's man" brand Jack Black. Set even comes with it's own traveling pouch. The set above retails for $49.99.
Image Credit:
Classic Shaving
If you want to get all fancy, take to sites such as Classic Shaving that offer an array of luxury shaving tools for men. Sets are offered in different finishes and products can even be sold separately. It doesn't end there, bath and skin products are even sold on the site. I even saw concealer and wrinkle cream. Looks like men are secretly hiding the fact that they have the many of the same beauty issues as women. Classic Shaving is a one stop shop for men. Peruse the website to see what tickles your fancy. Prices vary, however the set above retails for $129.99.
Image Credit:
Sephora
Because men like to smell good too, why not gift them with a fragrance sampler set from Sephora. This is a great way to test the waters with unfamiliar brands without forking over the big bucks. Before you purchase, you can even smell the samples that will come with the set. The set above retails for $65.00.
2. Tech
Gadgets have long been aimed at the male audience, and they are still the biggest fans. Take a pick at the hottest gadgets this season.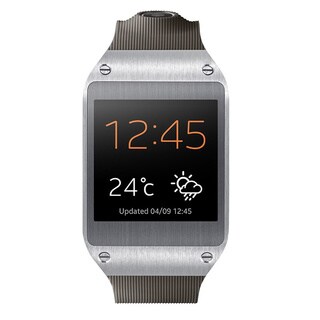 Image Credit: Samsung
Samsung Galaxy Gear is the latest in gadgets from the tech tycoon. I have no idea how this differs from your phone's notifications if you keep it on you at all times (which most of us do), but for those of you who don't, I'm told this is convenient. The device connects to your smartphone through Bluetooth and allows you to place and answer calls, even record memos. Galaxy Gear has the capability to find your phone if lost. Hmm, now that I think about it, this sounds neat after all. Samsung Galaxy Gear V700 Smart Watch retails for about $370.00.
Image Credit: Google
Google's Chromecast HDM allows video streaming from devices such as your phone, tablet, and computer onto your television. Despite all that it does, you can buy this little device for only $35. It works by connecting to a wifi network with a HDTV.
Image Credit:
Kodak via Walmart's Website
Cameras are still a hot gift for the holidays. Kodak has been around for generations and is still making hot cameras. Snag this one from Wal Mart's website for $189.99
3. Homemade Gifts
Image Credit:
Gift Baskets Las Vegas
Gift baskets with his favorite snacks and drinks!
There are many tutorials online showing you how to make a bow tie or neck tie at home. Get creative with the fabrics and patterns! He's sure to love it.
For the beer lover in your life, gift him with a customized beer much. There are ways to do this yourself, if not getting to monogrammed won't set you back much.
Hope this gift guide helped!
Did You Miss It??
Check out my holiday gift guide for her
here
.
Up Next:
Diva's 2013 Gender Neutral Holiday Gift Guide!
XO,
Diva