Diva's 2013 Holiday Gift Guide: For Her
Okay everyone, there are only ten days left until Christmas and I can guarantee you are like me and are not done with all of your shopping. You've probably pulled Secret Santa names among coworkers and or friends, and lets not forget about family. I'm here to give you a few ideas while you're out doing your shopping.
1.Beauty
Have friend that's dabbling into makeup, or have one that's just a makeup lover? This Real Techniques brush set is a great starting point. I happen to have been gifted with the eye makeup brush set and I love it. The best part about it is that they come in under $20! Snag these great buys om
Real Techniques
and
Ulta
websites.
Image Credit:
Bath and Body Works
Okay, I don't know if I've been under a rock or something, but Bath and Body Works' body butters are amazing. I'll admit, I've only tried one (pictured above), and if the others are just as thick and creamy as this one, then your gift recipient is in for a treat. It is a thick cream that leaves your skin feeling and smelling great. Just what everyone skin needs in this cold air. Bath and Body Works is currently running a buy three get three sale. What a way to get great gifts for at least six people, huh?!
Spa Day
By the year end every one is exhausted. Why give the gift of relaxation? You can take her in person or give a gift certificate. I'm sure she'll be more than grateful.
2. Tech
For many gals, gadgets just aren't for guys. Take a peek of some ideas for the techie chicas.
Beats by Dre headphones are still hot, and now that The Pill has been released, what better way to amp up the listening experience?
I came across a write up about this device on
Pure Wow's
website. Everpurse is a clutch abdprotable phone charger. It comes with it's own charging station and has a pocket inside the purse for you to charge your phone on the go. The devices come in multiple colors and prices range from $150-$249. The downside is that Everpurse is only compatible with iPhone 4/4s, 5/5s/5c, and Samsung Galaxy S3/S4.
How frustrating is it to try and text with your gloves on? You have to subject your fingers to chilling temperatures to send information. Well not any longer. Smartphone gloves have popped on the scene to allow us to text and stay warm, Equipped with conductive fingertips for the thumb, index, and middle fingers for both hands, texting with gloves is no longer a headache. The pair above retails for $19.95, but is on
sale for $2.68!
3. Homemade Gifts
Low on cash? Head to to store and get crafty (or you can head to your computer). Give a personal coupon book that she will appreciate. I week of house cleaning, a month of laundry, baby sitting, while she has a girl's night out. The possibilities are endless. Add as many coupons as you like and the amount of times they can be redeemed. After all, its the thought that counts.
Cookies is a jar is quick and thoughtful way to give a sweet, yet inexpensive treat. You can add a nice touch with a handwritten note that includes the type of cookie and instructions.
Crocheting is nothing new, but we're living in the age of Pinterest, so it has gotten a new life among younger generations. I see crochet items all over my social networking sites. So if you crochet, why not make a little something to give as a gift for the holidays?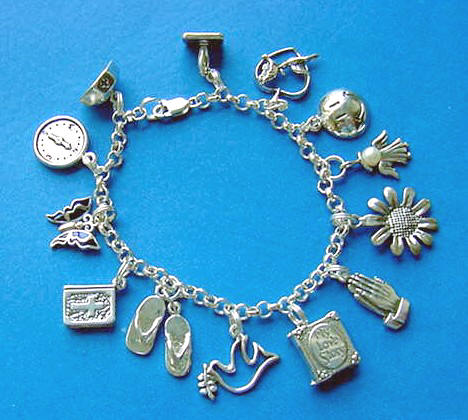 Don't have the money for Pandora, head to Hobby Lobby or your local craft store to made a unique charm bracelet for her. With a plethora of charms to choose from, it is easy to pick one that speak to the giftee's personality. I'm sure this is a gift she'll cherish for a long time. To add an additional special touch, include a unique story behind the charms you've chosen for the bracelet. A little hint: spray with clear sealant to keep it from tarnishing.
Hope you liked the gift guide! There more to come, so keep checking the blog throughout the week.
XO,
Diva