So I've had my eye on this product for some time. The official name is "Ruby Kisses HD Set n' Forget Setting Powder" and boasts "16 HR Flawless Rub Proof Wear."
Those are HUGE claims for a product that is 1. not a mainstream product and 2. costs only $5.99.
So I had to test it out on the one foundation that I have found to rub off, did not hold up against my oily skin or setting powder-Maybelline Superstay.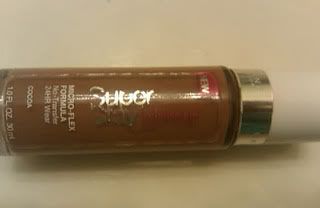 If this powder can keep this foundation looking as flawless as it does before my skin's oils get to it, then we may have something here. I have a long day today, so I'm will be putting that 16 hour claim to the test as well.
Update coming soon!!