You're Wearing What Color On Your Lips?!?!
One trend I have noticed on the blogs I frequent are the increasing popularity of "unconventional" lip colors. I also have noticed the responses to such people who wear these colors. Most are comments expressing how that color would not "look right" on certain people, or it looks "too costumy". The colors that raised the most eyebrows are purple (which is a shocker to me), green, blue, ad black.
Who says that we have to stay away from these colors when it comes to lip colors? We accept red, pink, brown, dark plums, orange and all variations of the colors except purple, grren, blue, and black. Now I do admit there is a fine line with wearing green, blue, and black between a well put together unconventional makeup look and looking like you are celebrating Halloween early. The key is the shade (except black will always be, well black) and how you incorporate into your look. Here are a few examples for purple, green, blue and black lipsticks done right.
Blue: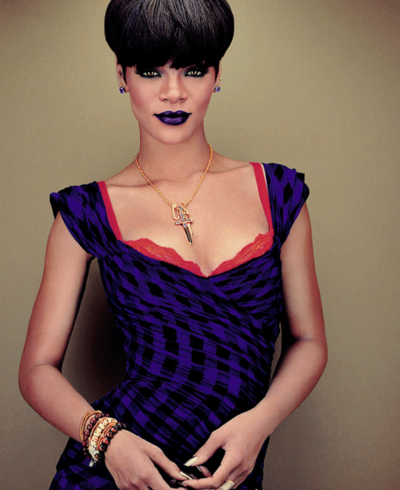 You almost cannot tell Rihanna is wearing a deep blue lipstick. Notice how the blue comes through because of the color of her dress. It does not look as if she is trying too hard because the overall look is dramatic, notice the heavy contour and dark eyes. You can find a deep blue lipstick from any mom and pop beauty supply store and add a little shine with a clear gloss. I have both and will definitey will be trying this look.
Here is a teal lip . The rest is her face is understated, forcing you to notice her lips. Even though this is obviously a model wearing the color, I have seen people in real life wear this shade of bright blue and do it well. It really takes confidence to wear a color like this, and I'm still on the hunt! Again, check out your local mom and pop beauty supply for colors like this one and Rihanna's.
Green:
I love this picture! Notice how her lipcolor blends with her scarf, it is the perfect addition. It is not a neon green that would make it look as if she is trying too hard. It is soft enough to be wearable yet bold enough to make a statement.
I just noticed this, but I believe this is the same model only with bronzer. Notice she is wearing a more subtle shade of green, it appears semi-matte, nothing overstated. The bronze and deep brown tones along with the green lippie compliments the overall look beautifully.
Black: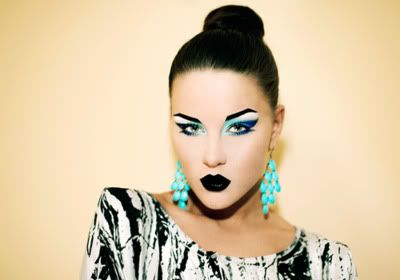 This is by far my most favorite makeup look to date. I think it is because blue is my favorie color and i love how it adds to the simple yet comlpex aspect of the look. I love how the face is flawless, absent of shine, but not cakey, and no cheek color to take away from the eye and lip color, only contour. The black and white of the top really ties the black lips into the look and the torquoise earrings really pull it together as an unconvential pop of color and not appearing to "matchy matchy" with the deep blue shades of blue on the eyes. This look, no lie is on my to do list!
Afraid that you can't pull off a black lip because you're a brown girl? Well let the picture speak for itself. The model is showing you how brown girls can pull of the dramatic look just as well. The neutral eye really ties to look together.
Black Radiance carries a blacck lipstick called "Onyx" and any and I mean any mom and pop beauty supply store will hae a black lipstick starting at just .99 cents.
Purple:
I don't understand how one would wear a hot pink lip but would not consider a purple. This is a bold look, but it shows that it is completely wearable. Revlon's Berry Haute is very similar to this color.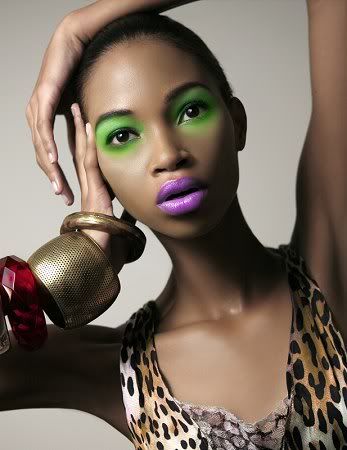 Here is a more dramatic look with the eyes, but notice how the lip color adds to the look, but it is bold enough to hold its own.