One trend I have noticed on the blogs I frequent are the increasing popularity of "unconventional" lip colors. I also have noticed the responses to such people who wear these colors. Most are comments expressing how that color would not "look right" on certain people, or it looks "too costumy". The colors that raised the most eyebrows are purple (which is a shocker to me), green, blue, ad black.
Who says that we have to stay away from these colors when it comes to lip colors? We accept red, pink, brown, dark plums, orange and all variations of the colors except purple, grren, blue, and black. Now I do admit there is a fine line with wearing green, blue, and black between a well put together unconventional makeup look and looking like you are celebrating Halloween early. The key is the shade (except black will always be, well black) and how you incorporate into your look. Here are a few examples for purple, green, blue and black lipsticks done right.
Blue: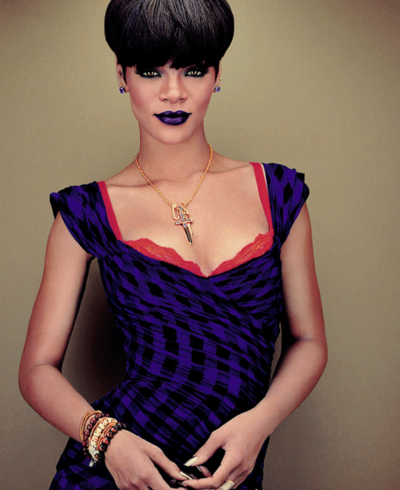 You almost cannot tell Rihanna is wearing a deep blue lipstick. Notice how the blue comes through because of the color of her dress. It does not look as if she is trying too hard because the overall look is dramatic, notice the heavy contour and dark eyes. You can find a deep blue lipstick from any mom and pop beauty supply store and add a little shine with a clear gloss. I have both and will definitey will be trying this look.