On August 29 I chopped off the rest of my relaxed ends. It was late at night around 11:30 p.m. and it resulted from my being frustrated with them while trying to style my hair. It had gotten to the point where I have not been able to keep a style for a week because the permed ends would not hold. While trying to style my hair for the next day, the permed ends just would not cooperate so they got snipped! My mom was about to jump out of her skin because I had cut my hair against her advice. She did not want me to cut it and mess up and end up hating my hair, but even professionals aren't perfect right? So here is the result!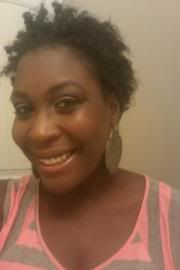 I had just enough hair for grasp for a braid-out.
This was the length of my hair before I made the decision to go natural.